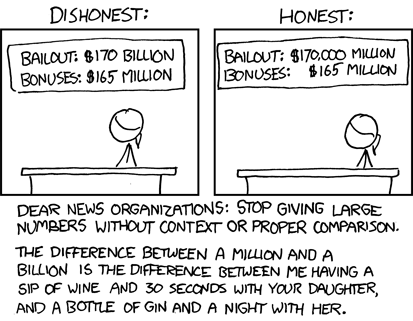 Dear News Organizations: Stop giving large numbers without context or proper comparison.
The difference between a million and a billion is the difference between me having a sip of wine and 30 seconds with your daughter, and a bottle of gin and a night with her.

YikeBike: The World's First Super Light Electric Powered Folding Bike

The Real World DC (Health Care Remix)
The true story… of 535 politicians…picked to live in two houses…work together and their lives taped…to find out what happens…when Congress stops being polite…and starts secret, detailed negotiations on a sweeping, transformative health care reform bill…
Will Verizon's LTE Pricing Look Like a Utility Bill – "Verizon's pricing for its next-generation Long Term Evolution Network will likely involve a base subscriber fee plus usage charges for the bandwidth consumed on devices that need a cellular connection, Verizon CTO Dick Lynch told the Washington Post. So the question now is whether the pricing model will resemble that of cable services, with a high base rate and then smaller charges for premium channels, or that of a utility bill, which see users pay a tiny charge each month and then a set rate for each kilowatt consumed. Or will it be closer to that of existing cellular pricing plans, complete with high base rates and punitive overage fees?"
Standing rib roast will have them shouting, 'Dhondra!' – "Do I look like Tiny Tim to you?

So if you're hosting a dinner for Christmas or New Year's or any other holiday — and you want to offer your guests something that truly says "special occasion" — I'll tell you what to cook.

It never had a beak. Never had feathers or ate seeds. But I guarantee it will knock the itchy woolen socks from Martha Stewart's feet."
. . . . . . . . .